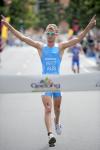 ... de champion d'Australie pour notre nouvelle recrue Brad Kahlefeldt. En effet, le week-end dernier, à Geelong, fut l'occasion de parfaitement débuter la saison 2011 avec cette nouvelle victoire devant le français Laurent Vidal.
Voici les commentaires de Brad sur la course :
" Yesterday was the Aussie Sprint Championships (750m/20k/5k) in Geelong. I was out of the water in the top 5 and we had a group of about 5 away on the first of 4 bike laps. We were caught by the large chasing pack half way into the ride and the pace was on most of the way which was nice. I went out at a solid pace on the run and decided to push for home in the final 2km of the race. I had a lead of about 10-15 seconds with about a Km to go and ran home to win my first Aussie Sprint Distance Championships Title. Frenchman Laurent Vidal ended up 2nd and Brendon Sexton 3rd."
Un petit mot également pour indiquer la belle performance de Pierre Le Corre sur les championnats régionaux de cross (Montpellier) qui remporte la course en espoirs avec une 10ème place sur la course élite.

Photo site de Brad Kahlefeldt